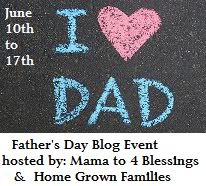 Thank you for stopping by The I  Love Dad -  Father's Day Giveaway Hop Event, hosted by Mama to 4 Blessings and Home Grown Families! This event will take place from June 10th at 12:01am EST to June 17th at 11:59pm EST. For this event we will be celebrating Dads! Which means we will be offering things Dads love for giveaways! After entering my fantastic giveaway be sure to visit each blog from the linky below the Rafflecopter and enter for your chance to win some really amazing prizes valued at at least $20 each
So What does dad want for Father's Day?
He wants to have FUN and start thinking about Football Season….am I right?  As you think about what to buy your dad,your husband, brother, uncle…step dad- that dad figure in your life, it's time to start thinking about Sports Action Board.
Sports Action Board is an interactive, fun game, that you can play while watching football on television.  It fits on your coffee table, and comes with the poker chips you can use to place your bets against your family and friends.  It is made in the U.S.A. using all local MA companies.  Also, good news if you happen to spill a drink or a hunk of burning cheese from your nachos on it, you just wipe it clean and it's as good as new.
BUY IT:  Buy it now, so it will make it to its destination by Father's Day  buy Sports Action Board  If you happen to win the giveaway Sports Action Board will reimburse you through paypal.
WIN IT: Enter the giveaway and you have a chance to Win your own board – or have it sent anywhere in the USA as a gift. Enter the raffle copter below and good luck.
A big thank you to all the incredible, hard working, loving dad's out there- the world and your kids need you in their lives…now follow the links below and enter to win all the great prizes on this I Love Dad Father's Day Hop.
Disclaimer:  Sports Action Board's creator is my wonderful husband.  I think it is a great game and I support the product 100%- all opinions are 100% mine. Please note that The Family That Laughs Together,"I Love Dad – Father's Day Giveaway Hop Event" bloggers are not responsible for sponsors that do not fulfill their prizes. We have represented each sponsor with the expectation they will fulfill their prize and in a timely manner. We will contact the sponsor regarding your prize(s). The sponsors, in most cases, are shipping their items to you directly. We will make every effort to assist you obtaining your prize. If there is an issue with a sponsor, please notify the blog you won a prize from within 4-6 weeks for assistance, after that we may be unable to assist you.
If you have any questions please let me know.
Thank you for participating!